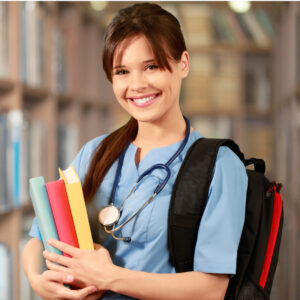 Learning is a lifelong endeavor—no matter how confident you are in your knowledge and abilities, there's always room for improvement. This is especially true for travel nurses and other healthcare professionals, as medicine constantly evolves with the discovery of new ways to treat patients and diagnose diseases. If you're a travel nurse looking to develop your professional skills, you're in luck. From taking continuing education courses to attending industry conferences, here are five ways you can improve your nursing skills. 
1. Take Continuing Education Courses
Most states in the United States require registered nurses (RNs) and licensed practical nurses (LPNs) to complete continuing education courses every few years in order to stay licensed. While this professional development is mandatory in order to stay in good standing, it's also a genuinely great way to broaden your nursing knowledge and gain new skills.
Continuing education courses provide nurses with novel information about the latest developments in healthcare, often covering the latest developments on topics including nursing ethics, conflict management, patient advocacy, and more. The good news is that there are many different ways for nurses to take continuing education courses: options include in-person and online courses, webinars, workshops, and sessions at healthcare conferences. 
2. Attend Healthcare Conferences
As mentioned above, healthcare conferences are a great way to find and participate in continuing education opportunities as a nurse. But you can find alternative ways to improve your skills and gain a better understanding of the nursing profession while attending a conference. 
Many healthcare conferences host lectures and keynote addresses by professionals who are knowledgeable about a specific topic related to nursing or healthcare in general. Attending these events may open your eyes up to new perspectives, issues, and solutions that you may not have considered otherwise.
Outside of lectures and keynote speeches, nurses can find value in networking with like-minded professionals or healthcare companies at conferences, which can help broaden your horizons and knowledge.  
3. Read Industry News and Nursing Literature
In between reading fantasy books, news articles, or whatever you might be paging through in your spare time, consider incorporating some healthcare publications or nursing literature into your routine. Taking the time to read up on some of the latest developments in the field, even if it's for a few minutes every day, will undoubtedly teach you something you didn't know before.  
If you're looking for some advice on what publications to seek out, we've compiled a few here for you:
4. Join a Professional Organization
If you want a simple way to stay connected with other nurses and up to date with the latest developments in the field, joining a professional nursing organization is an option for you. 
While joining professional organizations sometimes costs a membership fee, once you're in, you often gain access to continuing education opportunities and gain access to educational resources. 
Here are some professional nursing organizations to look into: 
5. Go Back to School
Still itching to learn more about the field of nursing? If your personal situation allows, don't count out going back to school!
Since you've already studied to become a registered nurse (RN), consider enrolling in a program to get your master's of science in nursing (MSN). Doing so will allow you to pursue an advanced practice nursing license, which will allow you to take on jobs with more responsibility and potentially make more money. 
Find Your Next Travel Nursing Job with Us
Ready to hit the road and take on your next travel nursing assignment? Reach out to our experienced recruiters today and we'll help you find a job that meets your personal and professional needs. Or, check out our job board and apply today.