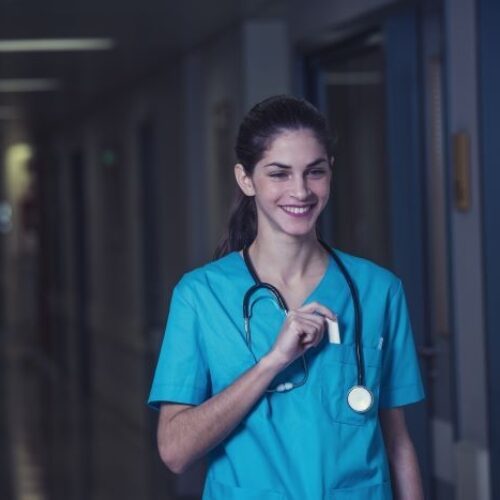 For day shift nurses, it may be easy to forget that your colleagues are still hard at work long after you've laid down to sleep for the night. Nurses are in higher demand now more than ever before, and this demand doesn't sleep.
Any facility which houses patients overnight will need nurses for night shift coverage. Generally speaking, travel nurse night shifts are usually between 8 to 12 working hours long, and responsibilities such as rounding and providing routine patient care are the same as a regular day shift. Though they can be disorienting for a first-timer, night shifts have certain pros over day shifts, like getting to spend more quality time with patients. Since the pace is so slow, night shifts are also great for new graduate nurses as they get more downtime to learn.
If you've just booked your first ever assignment covering the night shift and you're wondering what to expect, or how you'll get through it for that matter, look no further! Barton Healthcare Staffing asked experienced night shifters how they survive night shifts and is sharing their expert survival tips with you!
Sleep Schedule
One of the most common concerns about working the night shift is how and when you'll find the time to get some shut eye! Getting the sleep you need to be energized for your night shift involves resetting your sleeping schedule so that you're asleep during the day, and awake at night. According to experienced travel nurses, you have a couple of options when it comes to shifting your sleeping patterns:
"Try to shift your sleep schedule as much as you can a day or two before your shift."
-Sean Marchese, MS, RN
It'll be difficult to perform a complete reset of your sleeping patterns in one day, so it's recommended to start this reset a couple of days before you're scheduled for your first night shift. A good start is to begin staying up later than usual so you can get tired, and fall asleep earlier in the following days until you can eventually sleep during the day and stay up at night.
If you prefer to begin shifting your sleep schedule closer to your first night shift, Beth Hawkes, MSN, RN-BC recommends sleeping in as late in the day as you possibly can on the day of the shift so you can stack up some extra energy for the nighttime.
"This may mean staying up later than usual or getting a better night's rest closer to when you will have this extra busy period, so that way there are no major disruptions from lack of sleep during those few hours before bedtime starts."
Alternatively, twins and travel nurses Sara and Anastasia Prech, NC-BC, suggest sleeping in tune with your regular sleep pattern the day before your night shift, then taking a long nap on the actual day of the shift.
"For the first shift in a series, we recommend sleeping normally the night before and taking a 3 hour nap that day."
Whether you decide to sleep in or nap on the day of your first 8, 10, or 12-hour shift, it's helpful to set yourself, and your environment up for success before you lay your head on your pillow to ensure that your sleep won't be disturbed during the day.
To block out sunlight, Amazon sells blackout shades that keep all sunlight from coming in from windows, and can be easily stuck onto and removed from windows, which are perfect for travel nurses who are switching locations often. Packing an eye mask and earplugs for your assignment can also help you block out any extra light that slips through the cracks, as well as any ambient noises and sounds coming from those who are awake, out, and about during the daytime. The last thing you want is to be disturbed from your sleep with hunger pangs, so also be sure to eat something light 2-3 hours before laying down for bed.
Lastly, once you have started the initial shift in your sleeping pattern, it's important to keep it going so your circadian rhythm can adjust accordingly. Once you've completed that first night shift, it is recommended to try to go back to sleep within an hour or two of getting home, and to start and maintain a firm bedtime every following day. This will help you to get as close to 8 hours of sleep during the day as you can, especially if you're working night shifts back to back.
Meals
When all of the sudden you're eating lunch at 3 or 4am, it is to be expected that your first time on the night shift can be a bit disorienting! Just like your body has a set rhythm for sleep, it also has one with eating, so you'll need to reset your stomach clock as well.
"Treat eating times like jet lag. When we wake up before the shift, even though it is dinner time, we treat it like breakfast."
-Sara and Anastasia Prech, NC-BC
While "breakfast for dinner" is usually thought of as a fun way to switch up meals for kids and families, it's a reality for nurses working nights who need to fuel up before arriving at their facility. So when you wake up before your shift, be sure to get that caffeine boost from a nice cup of joe, and eat complete and healthy foods that will give you enough energy to get you through the night.
As for nutrition during your shift, Sara and Anastasia recommend taking the time to meal prep healthy and nutritious meals during your weekends that you can look forward to eating on your shift.
"Think whole foods, fresh fruits and veggies, and things like nuts or homemade popcorn. You don't want to be tempted by the food-like substances in the vending machine that will make you feel less than your best."
Avoid the temptation of vending machine snacks at the facility. These processed foods are not only bad for your physical health, but are also full of refined sugar that may get you energized for a short while, but will promptly lead to a hard crash.  After your blood sugar spikes and inevitably falls, you'll have extreme difficulty staying awake!
Activity
You will probably have a fair amount of downtime during your night shift as patients are sleeping and the daily hustle and bustle has died down, but do try to resist the temptation to idle or sit down for too long.
"Activity gives us that little boost of energy we need when our bodies start suffering from lack-of movement due to long hours at desk jobs with no breaks."
-Beth Hawkes, MSN, RN-BC
Believe it or not, staying physically active during your night shift actually gives you more energy to make it through. Plus, keeping your mind active will also help you to avoid boredom when there are inevitable lulls in your work.
There are lots of ways to keep yourself busy during your first travel nurse night shift. Walking the unit is a popular option among many travel nurses, but you can also stock carts or get some light cleaning done as well. Overall, simply staying on your feet can help fight both fatigue and mental weariness.
Getting through a short or long term assignment for night shift coverage is no easy feat, so however you are able to get through it, we applaud you!
Ready to work your first travel nurse night shift? Fill out our contact form and one of our expert representatives will reach out!