Your Partner for Travel Nursing & Allied Jobs
Quality. One Relationship at a time.
In the world of temporary travel nurse and allied health staffing, quality is important. To all of us at Barton Healthcare Staffing, each relationship matters — because it might lead to your next great candidate. When it comes to temporary nursing and allied health staffing, we know quality when we see it. Let us help you find your team's next valuable asset.

Short-term staffing, long-term quality.
When you choose Barton Healthcare Staffing as your travel nursing agency, you'll learn quickly how quality short-term staffing solutions can make a long-term difference for your organization and patient care. Let's work together to tackle your staffing challenges. Our team is standing by! You can speak with one of our representatives today. We look forward to learning more about your needs!
Learn More About Staffing
Learn More About the Nurse Licensure Compact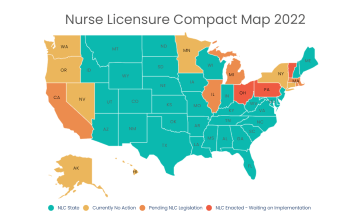 Are you required to get a new license for every new state you practice in to get travel nurse jobs? Depending on where you live, you may not have to!
Barton Healthcare Staffing's comprehensive guide breaks down the ins and outs of the Nurse Licensure Compact (NLC), and the advantages it provides to nurses who travel to different healthcare facilities for work. Our featured interactive map also makes it easy to check each state's NLC legislation status, and see if your home state qualifies you for a multistate nursing license.
Got Questions About Travel Nursing?
Our Barton Healthcare Staffing Travel Nursing Video Q&A Has Your Answers
In this video learn how Barton Healthcare Staffing helps healthcare providers find new jobs and travel to new places. Click now to view
Barton Healthcare Staffing Reviews
Healthcare Professional Testimonials & Success Stories
Regina S., Director of Nursing – "Lu adapted very well – she is an ER nurse but took the assignment on our telemetry floor. Patients loved her and staff. she was very positive."
Joheris E., Ultrasound Technologist – "I had a opportunity to work with Mr. Lorenzo Gonzales – that was blessing. I had his support from the moment I started the assignment until finish. I used to get a phone call from him regarding any upcoming issues or concern. Thanks for all your help."
Lisa D., Medical Surgical Nurse – "Daniel Buckley is such a SPECTACULAR recruiter. He always keeps me in the loop and always gets me SPECTACULAR assignments."
Bailey K., HR Manager – "All of the people that you have found to help us have been terrific – professional, personable and prompt. Thank you."
Click to Partner with Us