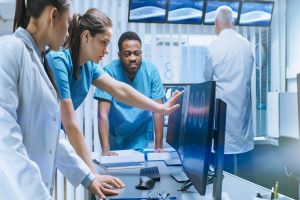 Your travel medical imaging salary can be dependent on a slew of various factors that encompass both your experience, as well as the nature of a given job opportunity on your career path. While you cannot control factors that are outside of yourself affecting your travel medical imaging median annual salary per job, such as the urgency of need and facility budget, you can, however, control how you position yourself as a candidate.
There are abundant allied health job opportunities in the travel medical imaging field of work, which has been partially propelled by ongoing improvements in diagnostic technology through time. Most entry-level travel medical imaging positions only require a two-year education, but a four-year education and bachelor's degree can land you a higher paying job right off the bat. However, not every medical imaging professional has the funds or the means to obtain a four-year education straight away, or even to go back to school later on in life.
Luckily, your education is not the only consideration made in the hiring process for travel medical imaging professionals. Experience is also a huge deciding factor for your travel medical imaging salary. While there is no way to fast-track the initial professional experience you'll gain from your first few medical imaging jobs as a freshly graduated allied health medical imaging clinician, there is a way to gain some additional credit by taking accredited courses and earning certifications.
Certifications not only show employers that you are proactive about gaining new knowledge and experiences, but it also shows them that you care about continuing your education by any means in order to be the best clinician you can be. There are many different options for certifications to earn and accredited organizations to earn them through. Barton Healthcare Staffing researched the best courses with certificates for medical imaging professionals to help you increase your travel medical imaging salary!
Coding accuracy has become so important to healthcare institutions that certification in coding has actually become an industry standard for medical imaging professionals. Coding specialists code important data used by medical providers and healthcare facilities to obtain reimbursement from government programs such as Medicare and Medicaid, and from insurance companies.
The American Health Information Management Association (AHIMA) course teaches medical imaging clinicians critical skills in classifying medical data from patient records in a variety of different healthcare settings, but mainly to be used in hospitals. Earning this credential will help you to show employers your mastery of coding, integrity, and tested data quality skills.
The Certified Radiology Administrator (CRA) certification from The American Healthcare Radiology Administrators (AHRA) will demonstrate your skills, capabilities, and achievements that you have obtained in the profession of radiology administration.
Focusing on asset resource management, human resource management, operations management, asset resource management, and communication and information management, the CRA is the only certification specialized just for radiology administrators. This certification help in demonstrating and quantifying your value as a medical imaging professional to potential employers, leading to a better fit for both yourself and the organization.
In many cases, travel medical imaging employers require the American Registry of Radiologic Technologists (ARRT) registered radiology technologist certification in order to be considered as a candidate, and for those who don't require it, this certification is sure to make you stand out as a job candidate.
Not only employers, but also federal regulators and state licensing agencies all consider ARRT credentials to verify that a radiology clinician has met the rigorous standards of the profession. Registration and certification for this credential requires the satisfaction of professional standards in interventional procedures, medical imaging, or radiation therapy, and completion of the certification demonstrates a professional's qualification to perform successfully in a specific role.
The successful execution of MRI procedures is vital to diagnosing many diseases and injuries, and even though a radiologist is the one who reviews MRI results, as an MRI technologist you are responsible for capturing the best images possible.
Organized by the American Registry of Magnetic Resonance Imaging Technologists, the goal of this certification is to recognize qualified clinicians as qualified specialists in the utilization of MRI technology such as cardiovascular MRI, interventional MRI, MRI breast imaging, and functional MRI.All qualified technologists in any imaging field who have a formal education through established schools for MRI technologists are welcome to register.
The Certified Radiological Technologist credential, organized by the American Chiropractic Registry of Radiologic Technologists (ACRRT) is in the form of a 100 question exam. Pre-exam and CE requirements vary by state, so interested medical imaging professionals should consult with their state's chiropractic association for more specific information.
As the exam covers subjects including physics and equipment, anatomy and physiology, principles of radiographic exposure, radiation protection, and radiographic positioning and procedures, earning the ACRRT credential will demonstrate your mastery of these skills and topics. The ACRRT recommends a focus on practical experience in chiropractic offices, learning from the ACRRT study guide, and reviewing the ACRRT Quizlet to prepare for the 2 hour exam. The exam is available to be taken in any location with internet on a desktop or laptop computer.
Put your new certifications to use on a travel medical imaging assignment! Take a look at our open medical imaging jobs to start earning more as a travel clinician!