As Baby Boomers age and their healthcare needs grow, registered nurses (RNs) are projected to be in short-supply in some areas of the country. In fact, the United States Health Resources & Services Administration projects a shortage of 63,720 full-time RNs in America in 2030. With fewer nurses available in areas across the country, facilities are increasingly relying on travel nurses to fill in some of some of the staffing shortages. Luckily, the Nursing Licensure Compact (NLC) allows clinicians with licenses in compact nursing states to work in other NLC states and provide care to patients where they're needed the most. Here's a look at the state of the Nursing Licensure Compact (NLC) in 2023, and why travel nurses should take advantage of its many benefits.
What is the Nursing Licensure Compact (NLC)?
The Nursing Licensure Compact (NLC) was implemented in 2000 and allows qualified RNs and licensed practical/vocational nurses (LPNs/LVNs) in participating states to apply for one multi-state nurse license that gives them the ability to practice in all compact states.
As of 2023, 38 states have enacted the NLC either fully or partially. Here's a map showing all compact nursing states as of September 2023 that was created with information from the NLC: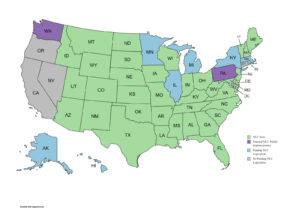 What Are The Requirements for an NLC Multi-State License?
Nurses looking to obtain a multi-state license from the NLC must meet the compact's Uniform License Requirements (ULRs). These state that a nurse must:
Meet requirements for licensure in their home state. 

Graduate from a board-approved educational program or an authorized international educational program. 

Speak English proficiently. 

Pass a NCLEX-RN or NCLEX-PN Examination. 

Hold an unencumbered license. 

Submit to state and federal fingerprint-based background checks. 

Hold a clean criminal record. 

Disclose participation in an alternative program and not participate in such a program.

Have a U.S. Social Security number. 
Benefits of NLC Licensure and Travel Nursing
With a multi-state license from the NLC, a nurse can travel across the country to provide healthcare. This sets the travel nurse up for some key benefits that permanent clinicians don't have:
Flexible Schedules:

Travel nurses are in a unique position to be more selective over what assignments they choose to take. 
Increased Pay:

While a travel nurse's salary depends on what facility they work in, what state they're working in, and other fluctuating factors, travel nurses typically make more than their permanent counterparts. 

See New Places:

Travel nurses can choose to work in states that they've never been to before, opening up opportunities to visit tourist attractions, national parks, and much more. 
Partner with Us
If you're a nurse looking to become a travel clinician, or if you're a medical facility manager dealing with staffing issues and you need immediate assistance, Barton Healthcare Staffing (BHS) is ready and willing to help. 
Nurses who reach out to us about one of our open positions will be set up with one of our skilled recruiters who, after determining you are a good fit, will help you find a job that meets your professional and personal goals. When you partner with us to find a job, we'll take care of everything—including helping you obtain a NLC multi-state license, if you don't have one already. Our travel team will also coordinate all travel and lodging arrangements for the start of your assignment. 
Clients who reach out to us will be assigned a single point of contact who will work to identify your staffing needs and find suitable candidates for the job. Once qualified clinicians are found, you'll have the chance to interview them yourself and make the final decision on whether you want to take them on. Our goal is to make the process as easy for our clients as possible. 
Contact us today to get started!
Want to learn more about the Nursing Licensure Compact (NLC)? Check out our comprehensive guide.