The Nurse Licensure Compact (NLC) Guide
Your Comprehensive Guide to the NLC
The relief, particularly amongst travel nurses when the Nursing Licensure Compact (NLC) was implemented in 2000, was palpable. Finally, RNs, LPNs, and LVNs in compact states didn't have to go through the burdensome and expensive process to obtain new state licenses in every additional state.
The NLC allows nurses in compact states to apply for one multi-state nurse license that, via the interstate agreement, allowed them to practice in other compact states. A visionary agreement that brought together an unprecedented number of state Boards of Nursing (BONs) who, with courageous leadership and modern ideas, tackled the public health issues affected by an ongoing nursing shortage.
Nurse Licensure Compact (NLC) Authorization
The NLC authorizes compact licensed nurses to:
Quickly respond to natural disasters across state lines.
Fill the gap in states where staffing is an ongoing challenge, i.e. rural areas.
Practice virtually via telehealth from another compact state.
Contact a Recruiter
Nurse Licensure Compact (NLC) Eligibility Requirements
By 2023, the NLC had grown to 41 member states, a testament that an interstate nursing agreement substantiated the need for innovative licensing portability. But like all regulations, with time came a need to update the legislature.
The National Council of State Boards of Nursing (NCSBN) identified a need to implement uniform background check requirements across all states. Thus, on January 19, 2018, the Enhanced Nursing Licensure Compact (eNLC) was adopted. The new eNLC required multi-state licensed nurses to meet eleven eligibility requirements:
Licensure by their home state, or primary state of residence (PSOR)*.
Graduation from a board-approved education program OR from an approved international education program.
Pass an English proficiency examination (as applicable).
Successful NCLEX-RN® or NCLEX-PN® examination or predecessor exam.
An active, unencumbered license.
State and federal fingerprint-based criminal background checks.
Zero felony convictions.
No nursing-related misdemeanor conviction (determined on a case-by-case basis).
Not currently enrolled in an alternative program.
Self-discloses current participation in an alternative program.
A valid social security number.
*A nurse's PSOR is not related to property ownership but instead related to legal residency status. Legal documents that support PSOR include a driver's license, a W-2 tax form, a voter's ID card, or a DD Form 2058 for military nurses.
Technically, the phraseology for the original NLC was replaced by the new eNLC, but is presently referred to as simply the NLC. However, these terms along with "Nursing Compact" and "Multistate License" are all still used interchangeably.
Nurse Licensure Compact (NLC) Member States
41 member states have enacted the NLC and state membership is on the rise.
As of this writing, there are 38 states that have fully or partially enacted the NLC.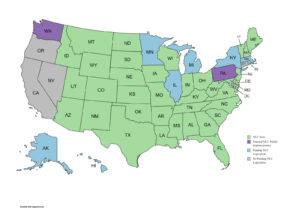 The NLC has been widely successful for over 20 years
Only those nurses who resided in an original NLC state that also enacted the eNLC were grandfathered into the eNLC if they held a multi-state license on July 20, 2017. Otherwise, nurses who live in states that weren't members of the NLC but are now members of the eNLC and wish to obtain a multi-state license must complete the compact license application from their respective BON.
Nurses who reside in non-compact states must continue to apply for single state licenses, if they wish to practice outside their state boundaries.
It is important to remember that the NLC requires nurses to adhere to the laws governing nursing care in each given state.
The NLC has been widely successful for over 17 years and we as nurses can be proud of the work the NCSBN continues to do on our, and the public's, behalf. Their constant focus ensures the increased opportunities for nursing employment across state lines not only maintains the public's protection but also addresses the dynamic, evolving healthcare issues of the modern day.
Wonderfully, such success has caused a wave of interest from other healthcare provider regulatory groups, paving the way for the Interstate Medical Licensure Compact (IMLC) and the Physical Therapy Licensure Compact (PTLC).
And that's just the beginning. We're stepping boldly into the 21st century. Take a bow nurses.
For specific state information, please check with your state's BON.
For detailed information on the Uniform Licensure Requirements (ULRs) and more about the NLC, please refer to the National Council of State Boards of Nursing (NCSBN) toolkit.
Contact a Recruiter