I lived and worked as a pharmacy manager for two years on the island of Maui, in a town called Kihei. I am addicted to diving and have logged about 250 dives in the approximately ten years I've been diving, and one of the primary reasons I moved to Hawaii was to dive.
About 80 of those dives have been on Maui, and I can confidently say after diving close to all of the shore diving sites (and a handful of the boat diving sites) on that island that these below stand out as my favorites.
Molokini Crater
Molokini crater is a boat dive that leaves from Ma'alaea harbor and the diving happens on the backside of the crater, as opposed to the snorkeling on the inside of the crater. It is a drift dive and I recommend you have good buoyancy control prior to diving this site due to the fact the water will lift you up, changing your depth regularly, so it can be difficult to have a visual reference of how deep you are. The wildlife out here is amazing; it is a reef wall that goes beyond depths you can see or dive to and is packed with reef fish, coral, even scorpionfish and frogfish. I was extremely lucky in seeing a tiger shark while I was out there patrolling the reef about 30 feet below me!
Airport Beach
Airport beach is one of the most well-known and beautiful of all the beaches on Maui. It also has, in my opinion, some of the most incredible diving. It has a nice, sandy entry, with shallow reefs that top out at around 40 feet or so. The reef, compared to others on Maui, is in pretty good shape and is teeming with wildlife. On a night dive here I saw one of the most incredible things I've ever seen diving – a baby octopus crawling across the sand. He actually got on my hand and fell asleep!! I also saw an adult octopus on a separate night dive and watching an octopus instantly change colors and textures as they swim across the reef to camouflage themselves is an experience you should not miss.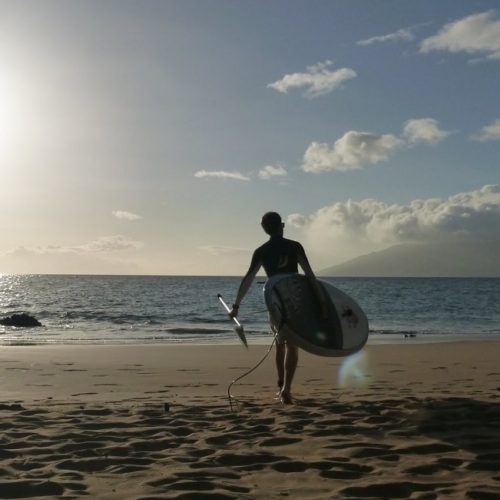 Ulua Beach
Ulua beach is in Kihei so this was my go-to spot for Maui diving. I could easily roll out of bed, grab a cup of coffee, get a dive in, and be back home before 10 a.m. or 11 a.m. There are actually three reefs here, and if you get the chance to dive Ulua make sure you get directions from the dive shop on getting to the third reef. It is a little deeper at about 60 feet, and a little bit of a kick out from shore, but completely worth it. I've dove Ulua numerous times and seen everything from sea turtles and parrotfish to tiny, beautiful little crabs that are not much bigger than your fingernail.
Nu'u Bay
Nu'u is for the adventurous. A two to two and a half hour drive from Kihei, Nu'u is not a park, it has no beach, and there are absolutely no facilities there. Pack it in and pack it out. It is a rough, rocky entrance in so be sure to check the weather and only dive on a flat day and if you have some experience under your belt. Still, this site has some of the largest schools of fish I've seen anywhere in Hawaii, maybe partially due to the fact that it drops to over 100 feet deep within probably 40-50 feet from shore. This topography brings in the deep water species and because of this Nu'u is also a popular fishing spot for locals.
Sugar Beach
You won't find many people that think about diving Sugar Beach because it is what we call 'muck diving,' or low visibility diving. It is very shallow (about 10 feet) and the silt gets kicked up, reducing visibility. However, it tops my list because it is a favorite spot of nudibranchs and flatworms. If you've never seen either be sure to do a Google search (or watch for one in my video). There are thousands of species with vibrant colors that can put any reef fish to shame.
Interested in taking the plunge and taking an assignment in Hawaii? Barton regularly posts openings for healthcare positions of all types. Connect with a recruiter to check them out!