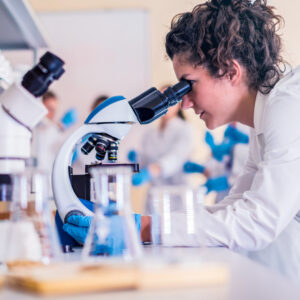 From analyzing patient cells for abnormalities, to searching for disease in tissue samples, to conducting routine tests of blood and urine, laboratory technicians perform a critical role in our nation's healthcare system. But there's a shortage of these allied health providers in the United States. According to a 2020 survey of laboratory professionals by the American Society for Clinical Pathology, many areas of the country face high vacancy rates of all lab tech specialties, and for most regions, the rates appear to be on an upward trend. If you're a cytology technician, histotechnologist, medical laboratory technician, medical lab scientist, or pathology assistant, you could unlock new opportunities, make more money, and see new places by taking a travel assignment.
Lab Tech
Job Outlook
Did you know, overall employment of clinical lab techs in the U.S. is projected to grow over the current decade? According to the U.S. Bureau of Labor Statistics, employment of these professionals is expected to increase 7% by 2031, with 25,600 openings projected each year, on average. 
But even with this labor data in mind, a serious question remains: will these openings be in the areas of the country that need lab technicians the most? While it's impossible to know how vacancy rates will evolve over the coming decade, one thing is for sure: travel lab techs can help fill in staffing gaps at laboratories and clinics across the country. 
Benefits of Travel Assignments
You may be wondering, why take a travel assignment in the first place? Travel allied health professionals make more money than those in permanent positions, as facilities are often willing to pay more for a skilled professional who can start on short notice. According to data compiled by Vivian, a healthcare job aggregator, travel medical lab techs make around 80.5% more on average than their permanent counterparts. 
When you partner with a staffing agency like Barton Healthcare Staffing (BHS) to find a travel assignment, you'll be set up with a recruiter who will work with you to find assignments that match your interests as well as your personal and professional goals. By taking a travel assignment, you can finally visit areas of the country that you've never been before to see new places and meet new people. In fact, BHS offers temporary travel jobs in all 50 states and U.S. territories.
Working with BHS to find a travel assignment comes with additional benefits you wouldn't have access to if you were to look for a job yourself. For example, travel and lodging (and sometimes a housing stipend) are covered by the client and booked by BHS' travel team. Don't have the right license for the state you're looking to work in? No problem—when you work with BHS, you'll also gain access to our in-house licensing and onboarding team, who will take care of all of that for you. In addition, BHS providers receive a benefits package that includes health, dental, malpractice, and vision insurance, a 401K plan, and more.
Partner with BHS
Sounds like taking a travel lab tech job is right for you? We'd love to partner with you to find an assignment that will meet your needs and wants! Reach out to us today, or apply to one of our open positions online.