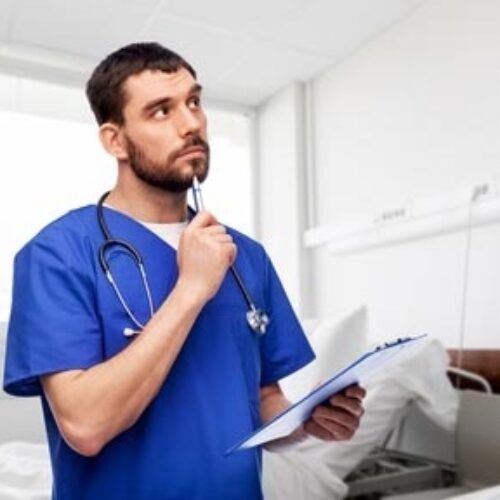 What Does a Travel Nurse Do?
Thinking about travel nursing? This career path is in high-demand, especially as more healthcare facilities are facing a higher need for skilled nurses. Travel nurses do many of the same things as other nurses do, with some additional skills and benefits.
Travel nurses can spend days to several months working in one location before moving on to another assignment. Read on to learn more about the benefits of travel nursing, what's required, and what you can do as a travel nurse.
What is a travel nurse?
A travel nurse is a registered nurse who travels around the country to fill staffing needs short-term in a variety of healthcare facilities. These vacancies could include maternity leaves, nursing shortages, or other situations where there will be gaps in staffing.
Travel nurses work with agencies rather than with facilities themselves. Travel can range from locally at the nearest hospital all the way to working in other countries, depending on the agency.
You don't need to have a special certification, but travel nurses typically stay within one specialty, such as ICU, neonatal, or telemetry.
Benefits of being a travel nurse
Many nurses go into this career because they want to work in a variety of locations, with the chance to explore new places. Add new skills to your resume working in diverse environments and have a chance to see different practices and protocols. There tends to be higher pay in travel nursing, along with sign-on bonuses, especially in locations experiencing higher staffing shortages.
The ability to travel also means you don't need to deal with the management and facility politics that can plague regular employees. You can avoid the drama of working with the same coworkers as your assignments typically last about 13 weeks. Traveling to new locations can also help avoid burnout in working in the same location and unit for too long.
Travel nurses can request certain assignments, especially after gaining experience. You can request assignments with other travel nurses and save on costs by sharing housing. It also gives you the opportunity to travel with someone you know to an unfamiliar place.
Requirements for travel nursing
Travel nurses need to fulfill certain requirements. These include:
Having an active nursing license
1 to 2 years of prior nursing experience
Ability to practice in the assigned state
Be able to provide documentation for vaccination status, PPD tests, Basic Life Support certification, and driver's license
Travel nurses need to be skilled at adapting quickly to new environments. You need to feel confident about diving into assignments with shorter orientations and be an independent learner.
You have to be willing in the beginning to take assignments that may not be ideal for you, knowing that with experience, you'll be able to choose better future assignments.
What can you do as a travel nurse?
Your job duties as a travel nurse can vary widely depending on the type of facility, specialty, and what that state has dictated for your scope of practice.
In general, your responsibilities are the same as nurses who are employed by that healthcare facility, including:
Performing patient examinations
Administering medications and treatments
Providing support and education to patients on their health condition and plan of care
Communicating with providers and other healthcare staff
Travel nurses are exposed to a wide variety of different nursing protocols and processes depending on the region assigned. As a travel nurse, you may be among the first to float to other units as needed and may be assigned frequent evening, weekend, and overnight shifts. Travel nurses typically work holidays without much flexibility for desired shifts and time off. The trade-off is the ability to be able to take as much vacation time as you want in between assignments.
Travel nurses can take crisis assignments where you can pick up and relocate to a place experiencing a natural disaster, COVID-19 hot spot, or other crises such as severe staffing needs, a spike in patient census, or nursing strikes. These assignments tend to pay the most.
Travel nursing is a lucrative career choice that allows you to see new places, meet new people, and advance your nursing abilities. If you're thinking about making the move, contact one of our Barton Healthcare Staffing specialists today!