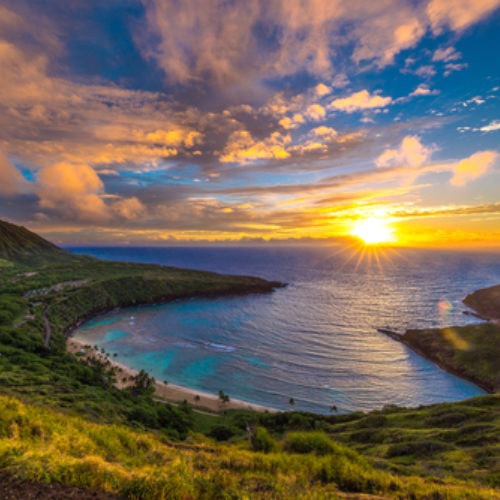 Thinking about taking an assignment in Hawaii? First off, congratulations on getting an offer! I moved to Hawaii about a year after pharmacy school, and I still remember the offer letter I received with "Hilo, HI" in the address. I think I was more excited than when I received my acceptance letter for pharmacy school.
I was in Hawaii for a total of five years, lived on two of the islands (the Big Island and Maui), and visited all the major islands (Oahu, Maui, the Big Island, Kauai, Lanai, and Molokai). One day, while working on the Big Island, I remember my boss came in and said "Alex – can you go to Maui for four days?" I almost fell out of my chair! I had made it in life indeed. In the end, I went to Oahu so much for work it started to feel like home too.
All of this to say, while it would take a lifetime or more to fully explore the Hawaiian Islands, I've gotten a good taste of them, and in this article I'd like to share a few of my favorite spots with you.
Downtown Lanai
Lanai is so laid-back and relaxing that you will lose all ambition in life within a few hours of landing. The entire downtown is about the size of one city block and includes a few local restaurants, a grocery store, a central park (called Dole Park, from Lanai's pineapple days), and some homes. Perhaps more importantly, though, is what it doesn't have: chain restaurants of any sort or even a stoplight.
Lanai is, in fact, so safe and peaceful that I saw many parents letting their kids run all through downtown and around the island, even from a young age.
To get there, take a flight into the Lanai airport or take the ferry from Maui to Lanai, which leaves from Lahaina.
Oahu's North Shore
As legendary as the North Shore is, I had honestly never heard of it until I was on Oahu for work once. I had just left work, traffic was crazy in Honolulu, and I decided to take the first road out of the city I saw. I happened to have taken the highway headed north and soon found myself in Haleiwa.
Like downtown Lanai, Haleiwa is incredibly relaxing, but it has great access to beaches for swimming and water sports. I took my first paddle boarding lesson there, was hooked, and bought one shortly after going back to the Big Island. It also has nice coffee shops and restaurants so you can spend the day. Turtle Bay Resort is really the only hotel on the North Shore.
Kaena Point
Forget about Hana Road – the western shore of Oahu is actually the prettiest drive in the state. The road is sandwiched between a green wall of mountains and the iridescent blue of the ocean. You're going to be tempted to risk a car wreck to stare at all of it, so be sure to bring a friend so you can take turns doing the driving.
The road ends at Kaena Point, where you can hike, swim, fish, or just take in the views.
Haleakala
Haleakala is Maui's highest mountain and is full of hiking trails from little day hikes to multi-day backpacking trips. The telescopes, weather stations, and Mars-like landscape are pretty against the backdrop of the landscape and a sunset. In fact, one amazing thing to do at Haleakala is watch the sun set over the entire island, as you peer over Maui's valley, the West Maui mountain, and neighboring islands.
Diving with Manta Rays
On the Big Island, north of the airport in Kailua-Kona, manta rays have learned that if they show up where the dive boats are, they can get an easy meal of plankton that are attracted to all the lights. That means as a diver or snorkeler you get to see manta rays in action, which is a top Hawaii experience. They will swim so close to you, doing in-water somersaults and last-minute turns, that sometimes it will feel as if you need to move to keep from bumping into them.
Sheraton Hotel in Kona as an alternate location, where you don't have to pay for the tour boat and can do it as a shore dive. While that is true, and I've done that a couple of times, I highly recommend you not attempt it unless you are very comfortable in the water. It's around maybe a 1000-foot swim (each way) from the entry point (1/5th of a mile), at night, and a rocky entrance into the water (like most Big Island dive sites). You also need to be comfortable navigating back to the entry point, where the main landmarks are a couple of lights shining on shore.
Ready to begin your journey into traveling healthcare? Contact the Barton Healthcare Staffing team today to get started!