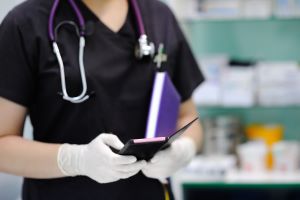 As it turns out, nursing apps aren't just for nursing students who are studying up for their NCLEX-RN exam, and you don't have to be in nursing school to keep reading up!  In fact, given that the sphere of healthcare is one of the fastest paced industries out there, it's important for travel nurses to continually improve upon their medical knowledge, and stay up to date with all of the latest news, research, technology, as well as anything else that affects the healthcare industry throughout their nursing career.
Today there are nearly two million apps available for download for iPhone, and over 3.3 million for Android. Within this ever expanding collection exists a treasure trove of convenient tools and resources just for nurses. While these apps may be most widely used by student nurses as an educational and studying resource, they are also a fantastic asset for licensed nurses who are actively practicing and traveling on assignments. 
In addition to supplementing and fortifying the knowledge you already have, nursing apps significantly increase your access to helpful point-of-care tools. This increased access is proven to support improved clinical decision making, which ultimately results in better patient outcomes during your travel nurse jobs. 
Whether you're interested in staying up to date with the latest healthcare happenings, learning something new, or simply giving yourself a quick refresher, consider adding Barton's list of the top 5 nursing apps to your toolbox!
Davis's Drug Guide for Nurses
Say goodbye to memorizing every individual drug name, brand, and interaction! Davis's Drug Guide  is one of the top drug reference apps for nurses available for iPhone and Android in 2022. This mobile app provides nurses with regularly updated and in-depth information on the pharmacology of generic and brand-name drugs, natural and herbal supplements, classifications, combination Rx indexes, and even Canadian medications. 
Davis's Drug Guide for Nurses reflects the most up-to-date FDA changes and approvals, and emphasizes all pertinent clinical information that nurses need to know in order to put safety first. Along with over 1,700 well-organized monographs covering more than 5,000 different drugs, the app includes 700+ built-in dosing calculation tools, pill images to visually confirm drug forms, risk evaluation and mitigation strategies (REMS),  and much more!
Davis's Laboratory and Diagnostic Tests
Created by the same makers of Davis's Drug Guide, Davis's Lab and Diagnostic Tests is another comprehensive library that nurses can conveniently store right on their mobile devices. Providing the most current monographs for over 400 laboratory and diagnostic tests, this app can help nurses in understanding and implementing critical test procedures. 
App users can quickly and easily search through the integrated index by synonyms, abbreviations, diseases and disorders, specimen types, or test classifications to access detailed entries which provide information on test function, accurate interpretation of normal and abnormal results, and preparing patients. Within these entries you can also find information on pretest requirements, intratest procedures, and post-test care along with lists of any factors that may interfere with test results. 
The Davis's Lab and Diagnostic Tests app also features a Body Systems Appendix that breaks down lists of common lab and diagnostic tests specific to each individual body system and includes nutrition-related lab tests as well. The app's library of resources offers unique coverage across subspecialties such as nutrition, maternity, therapeutic drug monitoring, and sensory.
Prime: PubMed Journals & Tools
The free Prime PubMed app keeps you up to date with the latest, evidence-based abstracts and journal citations from the full PubMed database through exclusive tools which create a unique and personalized experience. 
Search content by plugging in an author, keyword, or journal, then click to gain access to full-text articles. In addition to its basic search functionality, the app offers another handy search feature called Grapherence®, which visually illustrates the influences and interrelationships between various journal articles through graphs. This exclusive tool helps users in identifying clusters of thought, uncovering related formative and influential works, determining overall significance, and locating generally inaccessible entries all with the click of a button. 
Easily bookmark informative articles for quick and convenient access when you need them later, or select your favorite journals to follow their newest content. You can even opt to receive updates when new pieces are published, so you don't have to worry about missing a thing. Any article you access can also be easily shared with family, friends, and colleagues right from the app via SMS and Email, or through social media platforms like Twitter and Facebook.
Taber's Medical Dictionary
Most people's first reaction to hearing a fancy new vocab word is to stealthily run a quick Google search for the definition; but for nurses, tracking down the most relevant and accurate definitions for medical terms isn't always that easy. 
Taber's is the top medical dictionary app trusted by healthcare professionals today for convenient access to unbiased and clinically relevant medical term definitions. Its collection is up-to-date with complete materials from the dictionary's 24th edition published in 2021, and includes more than 75,000 medical terms, 1,300 high quality images, 130 videos, and over 600 Patient Care Statements. 
The app's user-friendly navigation menu is simple and well organized with often-searched appendices, and its intuitive Enhanced Search tool allows you to quickly and easily locate the topic you're looking for. Once you view a topic, Taber's provides you with the most in-depth definitions you could need, supplemented with educational illustrations and photos, as well as an audio player which demonstrates the correct English pronunciation of terms. The information provided for every topic even goes a step further, offering a wealth of additional information such as medical abbreviations, nutrition and alternative therapy, symbols and units of measurement, immunizations schedules, and more!
With Taber's, you can also interact while you learn using highlighting and note taking tools, and an ability to bookmark specific topics along with your work to reference later. 
Nursing Central
Brimming with an array of helpful tools and detailed information on a wide range of medical topics, Nursing Central is the all-in-one mobile resource that every nurse should have downloaded. As the leading mobile app for detailed information on drugs, diseases, procedures, and tests for nurses, Nursing Central combines 5 of the best-selling nursing apps available on the Apple Store and Google Play to form the ultimate reference to keep in your back pocket. 
Using its intuitive navigation and full text search feature, users can search through topics across all the app's resources, including its collection of over 24 million medical journal articles and extensive cross links to related content. Once you've finished reading up on the latest publications from your favorite medical journals, you can answer any new questions you may have by referring to the in-app dictionary with comprehensive definitions for over 65,000 medical terms featuring audio pronunciations, tables, images, and videos. 
When you need quick answers while you're on the job, you can always consult Nursing Central's exhaustive database of drugs, view information on interpreting hundreds of laboratory and diagnostic tests, or utilize its many available conversion, clinical, IV, and dosage calculators. Then, to lock in all of the new knowledge you've gained, you can use Grasp™, the app's integrated study system created to help nurses to reinforce new information and key concepts. 
The travel nurse lifestyle has plenty of perks, but it can also get hectic. Take some hassles off your plate by checking out the most useful nursing apps, hand-picked by Barton Healthcare Staffing just for you!
Take your new nursing apps on the go by starting your first travel nurse assignment! Fill out our contact form today to get started with an experienced Barton agent.