Medical imaging is a growing profession—in fact, the United States Bureau of Labor Statistics predicts that employment of these allied health providers will increase by 6% by 2031. But if you're a CT tech, MRI tech, ultrasound tech, mammogram tech, or any other medical imaging provider looking for travel assignments, how do you know where you're most needed? While we can't predict with certainty where new jobs will pop up, we've analyzed the last few years of our job postings to find the hottest states for travel medical imaging jobs. 
California
Are the beaches of sunny southern California calling you? How about the redwood forests of the Golden State's beautiful north?
California is one of the more popular states we've seen for travel medical imaging jobs in recent years. More specifically, we've seen a lot of interest in this West Coast state for diagnostic radiation techs, mammogram techs, MRI techs, ultrasound techs, nuclear medicine techs, and CT techs.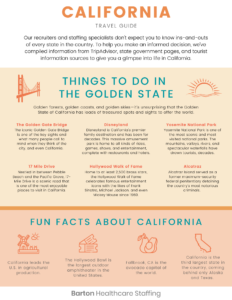 California is one of the country's biggest states, and with that size comes a lot of things to do and places to see. Take a day trip to Disneyland, visit the Hollywood Walk of Fame, or explore the state's many national parks. No matter if you're on a short- or long-term assignment, you're bound to find something new in California.
New York
From the tall skyscrapers and bustling streets of Manhattan to the serene forests and quiet rivers of the Catskill mountains, there's something for everyone in New York.
Over the last few years, we've seen a lot of travel medical imaging jobs open up in the Empire State. Similar to California, New York has had a need for CT techs and diagnostic radiology techs. But unlike its West Coast counterpart, there's been interest in New York in hiring travel sleep technologists, also known as polysomnographers. 
While New York is well known for the city, there's an entire upstate area that is much more rural. Regardless, whether you're interested in visiting Times Square or Niagara Falls, there's a lot of opportunity for travel medical imaging providers in this East Coast state.
Illinois
Not interested in working on the East or West Coast? Consider taking an assignment in the Midwest state of Illinois!
When it comes to travel medical imaging jobs in the Prairie State, we've seen a lot of demand for CT techs, ultrasound techs, and diagnostic radiology techs since 2021.
While Illinois is best known for Chicago, its largest and most populated city, there are a number of other things to do in the smaller cities and towns sprinkled around the state's vast stretches of picturesque land. 
Alaska
Looking for a true adventure? Blaze your own path in the Last Frontier, more commonly known as Alaska, the country's northernmost state!
In Alaska, we've seen demand for travel medical imaging specialists such as ultrasound techs, CT techs, diagnostic radiology techs, mammogram techs, and MRI techs.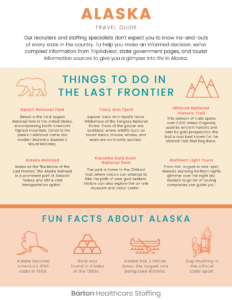 With an abundance of natural beauty, Alaska is a great place for nature-lovers who want a break from the hustle and bustle of big cities and crowded suburban areas. 
Partner with Us
It's difficult to know exactly where new travel medical imaging jobs will pop up in the coming years but we hope this historical information will help you get a better idea of the recent demand. Just remember: even if you don't see your specialty on this list, always double check the state's job postings. You never know what you might find!
If you're a travel allied health professional looking to take on a short- or long-term temporary assignment, check out our job board, or get in touch with a recruiter today.