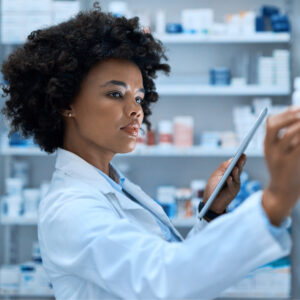 Pharmacists play a critical role in providing access to healthcare—every day, these skilled professionals dispense lifesaving medical prescriptions to patients while educating them about drug interactions, side effects, and much more. In the United States, employment of these medical professionals is projected to grow about 3% between 2022 and 2032 according to the U.S. Bureau of Labor Statistics (BLS), but how much money do they make? In this blog, we're diving into pharmacist salary data and explaining how becoming a travel pharmacist through Barton Healthcare Staffing can potentially lead to greater earnings. 
What is the Average
Pharmacist Salary?
In 2022, the median annual wage for pharmacists was $132,750, according to the BLS. For context, the median annual wage for physicians and surgeons was $229,300 in the same year, while registered nurses (RNs) had a median salary of $81,220. 
Average pharmacist salaries vary heavily from state to state. In fact, according to the BLS, the annual mean salary for pharmacists is highest in California, at $151,280. The next three states with the highest annual mean salary for pharmacists are Alaska, Oregon, and Washington, at $146,400, $141,440, and $138,580, respectively. 
The states with the lowest annual mean salaries are Rhode Island ($112,560), West Virginia ($119,000), Arkansas ($120,440), and Tennessee ($120,600). 
Remember: these numbers are medians and means taken from all of the available annual pharmacist salary data—there are professionals in every state who make more than the average. However, travel pharmacists do have a unique opportunity to make more than permanent providers—regardless of where they work. 
Earn More as a
Travel Pharmacist
Travel healthcare clinicians move across the country, taking temporary work at healthcare facilities that need to fill gaps in coverage. These facilities will often pay a higher premium for quick, quality temporary staff, meaning those providers typically make more than their permanent counterparts. 
On average, travel pharmacists make almost 94% more than the average permanent pharmacists across all industries, which includes work environments like hospice, medical practices, urgent cares, hospitals, and clinics. 
Taking a travel pharmacist position comes with more perks than just increased earning opportunities. Travel healthcare workers who partner with Barton Healthcare Staffing (BHS) to find an assignment benefit from: 
Partner with BHS
If you're a pharmacist looking to make a change to a travel career, we're here to help you find an assignment that meets your personal needs and professional goals. When you partner with us, you'll be linked up with one of our experienced healthcare recruiters who will work alongside you every step of the way. Discover our open jobs today!