Five years ago, Lina Gallotto sat in her office at the newly formed Barton Healthcare Staffing (BHS) in Peabody, Massachusetts, waiting for an interview with a candidate for the company's first recruiter position. 
"If no one's walking around in the office, the lights go out," Gallotto recalled. "So when the applicant came into the office for the interview, it was completely dark. He was like, 'Hello? I'm here for my interview.'"
Gallotto, a seasoned business professional with over 20 years of experience in the staffing industry, had just been tapped to lead BHS as its founding president. And like all who build a new business from the ground up, she needed hands to help turn BHS into one of the country's leading travel allied health and specialty nursing staffing companies.
The applicant quickly discovered that he was in the right place, and got the job soon after. This was the first hire of many for Gallotto at BHS, which is celebrating its 5th anniversary in business with over 100 account executives and recruiters across three offices in the United States.
"I was always confident in the business," Gallotto said. "There's a huge market in the nursing and allied space. With my background and experience, I knew I could do it. The first year we brought in a million dollars—the next year, we did five [million]."
Building BHS
Gallotto cut her professional teeth at a global staffing and consulting company, where she began as a recruiter in 1997. She quickly rose into executive leadership, eventually becoming a senior vice president at the company.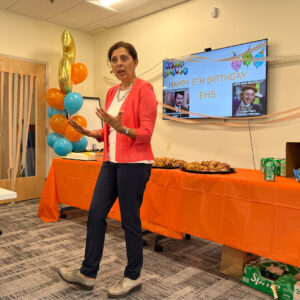 In 2018, one of Gallotto's former colleagues, Robert Indresano, who had moved on to a job leading Barton Associates, told her about his company's idea for a spinoff/new business venture. The idea was to create BHS, a company that specifically focused on the travel allied health and specialty nursing staffing market—and he wanted Gallotto to spearhead it. 
"The vision was that it would be a complimentary business to Barton Associates, which does locum tenens staffing, because there was a larger addressable market on the nursing and allied side," Gallotto said. "I'm an operator—I've started multiple divisions, multiple operations, I've done startups, turnarounds, reorganizations, acquisitions—so to start something, for me, is not that difficult."
With her offer letter signed, Gallotto got to work building BHS from scratch. She started by embarking on an all-encompassing fact-finding mission, researching the healthcare staffing industry and BHS' competitors, all while setting up interviews with industry leaders and key stakeholders for their insight. 
"Understanding the market was the biggest piece for me," she said. "I needed to understand the clinical market, the needs of a hospital, and what medical specialties are more specialized than others. That was the initial days, and then it was developing a Salesforce system and all the back office pieces that we needed, such as hiring the staff."
Gallotto said she looked for new hires that were motivated by being a key piece of a startup. Over time, she put together a skilled team of recruiters and account executives who began working to recruit clinicians and partner with new clients. 
"Anyone that has persistence, tenacity, and a good work ethic can do well and has done well here," Gallotto said. "But if you give up too quickly, whether it's here or anywhere else, you're just not going to do well."
Navigating COVID-19 and Inside BHS' Future
Less than two years after BHS started, the COVID-19 pandemic began, which presented the company with not just challenges, but also immense opportunities. 
In fact, Gallotto had serendipitously chosen respiratory therapy as one of BHS' focus specialties on the allied health side when starting the business in 2018. So, when a respiratory disease began to wreak havoc on the nation, the company was in a prime position to help staff clinicians in critical positions.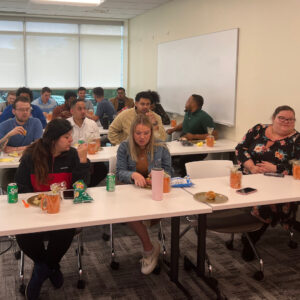 "You can't come out of surgery without oxygen, you can't go into surgery without oxygen," Gallotto said. "That's all respiratory therapy."
BHS' first five years came with immense expansion, not just in revenue, but in its geographic footprint as well. In September 2021, BHS opened an office in West Palm Beach, Florida; and the company has recently soft-launched its third office in Las Vegas, Nevada.
"It was the plan from day one, before I even joined, to expand," Gallotto said. "It was just a matter of when we had staff and when the time was right to expand into the next office. We're a human capital company—I can't expand without the human capital to help drive that expansion. So without enough people, we really don't have a business."
Moving into the future, Gallotto is confident that BHS will continue to grow and establish itself as a leading company that brings medical facilities in every U.S. state and territory an all-inclusive staffing solution.
"I love creating opportunities for our team, creating jobs and careers for our staff, and giving them the ability to make a great living," she said. "A great professional life gives people a terrific home life and a career trajectory that they probably never saw before. That, to me, is probably one of the most satisfying pieces of what we do here at BHS."