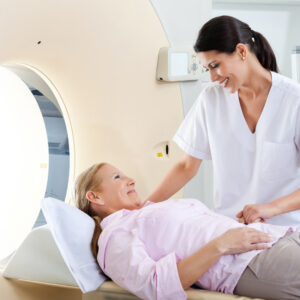 Radiology professionals save lives every single day, leveraging complex imaging technology to identify and diagnose diseases in patients of all ages. Trained to conduct or analyze CT scans, MRIs, X-rays, mammograms, ultrasounds, and more, employment of both radiologists and other medical imaging professionals, such as radiologic technologists, is projected to grow steadily until 2031, according to the United States Bureau of Labor Statistics. Read on to learn more about the radiology salary trends of the past few years and discover why medical imaging professionals should consider a travel healthcare career.
Radiologist Salary Trends
Radiologists represent the upper echelon of the radiology profession—they are trained medical doctors who diagnose illnesses through medical imaging technology and treat patients. These doctors generally fall under three sub-categories: diagnostic radiologists, who conduct the majority of common examinations; interventional radiologists, who use X-rays and MRIs to deliver treatments to patients; and radiation oncologists, who treat cancer through radiation therapy. 
But how much do radiologists make on average? According to a 2023 report published by Medscape, the average annual compensation for a radiologist is $483,000. This is an increase from Medscape's 2022 report, which said the average radiologist made around $437,000 per year. But wage growth for radiologists is not just a recent development. Since Medscape's 2015 report, average yearly compensation for these specialists has increased by roughly 38%, with a slight dip during the height of the COVID-19 pandemic. 
Although Barton Healthcare Staffing does not staff radiologists, our sister company, Barton Associates, has many open locum tenens assignments available for these experienced professionals. 
Medical Imaging Salary Trends
Working alongside radiologists are other medical imaging professionals, known as radiologic technologists, who perform imaging exams and sometimes administer radiation therapy. Unlike radiologists, these imaging professionals are not medical doctors, which means while they may assist in interpreting the images they collect, they don't prescribe treatments. Radiologic technologists include MRI techs, CT techs, mammographers, and providers in other imaging specialties. 
According to the 2022 edition of the American Society of Radiologic Technologists Wage and Salary Survey, the average salary for these healthcare workers was $77,027—a number that has increased 11.2% since 2019. 
Why Become a
Travel Medical Imaging
Provider?
The aforementioned salary numbers do not differentiate between permanent and temporary or travel radiologists and other imaging professionals. But did you know that CT techs, MRI techs, radiation therapy providers, cath lab techs, EEG techs, nuclear medicine providers, ultrasound techs, mammogram techs, PET scan techs and X-ray technologists who work on a temporary and travel basis make 73.2% more money than their permanently employed counterparts on average?
Not only are these travel medical imaging professionals likely to make more money than those in permanent positions, they also have much more say over when and how often they work. Travel positions range from one weekend to full-time, and while they are temporary, providers can find a position that works with their schedule. 
Travel positions also give medical imaging providers the opportunity to visit and live in places they have never been before. 
Partner with Us
If you're a medical imaging professional who is looking to transition into a travel position, or if you're a current travel provider who wants to explore other job opportunities in a new place, reach out to us. And if you're a radiologist looking for a locum tenens assignments, reach out to our sister company Barton Associates. When you partner with us, you'll be linked up with one of our experienced healthcare recruiters who will get to know you, your experience, and career goals. Together, we will match you with a position in the healthcare facility that's best suited for you. Discover our open jobs today!