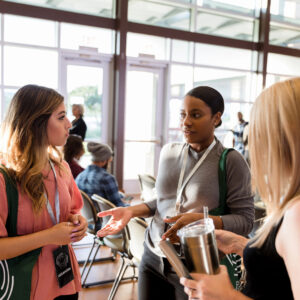 If you're a travel nurse, allied health professional, or even an industry executive, attending healthcare conferences is a great way to access continuing education opportunities, learn more about the industry, and network with like minded people. But with so many events happening every year, it can be hard to determine which are worth your time. That's why we've compiled a list of four upcoming conferences that we believe you'll find great value in attending. Remember, this isn't an exhaustive list of all of the worthwhile conferences out there—do your own research to find some more specialty-specific conferences that might benefit you.
TravCon 2023
First on our list is TravCon 2023, which is taking place September 17–20 at the Paris Las Vegas Hotel & Casino in Las Vegas, Nevada. The largest traveling healthcare conference in the United States, TravCon is slated to feature over 50 speakers, plenty of networking events, and opportunities for attendees to earn continuing education credits. Topics covered by the speakers include a look at the use of humor in healthcare, personal finance tips for travelers, tax basics, and much more. 
An added bonus: Barton Healthcare Staffing will be exhibiting at this event, so make sure you find us and say hello! If you're a travel allied health or therapy provider, make sure to attend the Allied & Therapy Mixer we're sponsoring at the Paris Conference Center on Sunday from 6–8 p.m. TravCon is coming up fast—register as soon as you can!
7th Edition of Nursing World Conference
Is TravCon too soon for you? If so, consider instead attending the 7th Edition of Nursing World Conference, which will be held in-person at the Hilton Boston/Woburn in Woburn, Massachusetts, on October 16–18. Unlike TravCon, this is a hybrid event, so if you can't make it to the conference, you can always tune in from home over the internet. 
The Nursing World Conference's schedule is jam-packed with speakers, researchers, clinicians, and many more who plan on presenting research aimed toward improving nursing practice, education, and management. And, just like TravelCon, the event has networking opportunities for attendees to connect with others in their field.
NurseCon at Sea 2024
All aboard! If you're a nurse looking to mesh a Caribbean vacation with learning and networking opportunities, consider attending NurseCon at Sea 2024, April 9–14, 2024. This nursing conference is unlike any other, taking place on the Norwegian Breakaway, a massive cruise ship that will travel from Miami, Florida, to Cozumel, Mexico, to Great Stirrup Cay, Bahamas, before heading back to the U.S.
This luxury cruise will provide attendees with 37 continuing nursing education (CNE) hours, taught by 17 instructors, covering topics like telehealth, advocating for patient autonomy, establishing mentorships, and much more. But it's not all serious, there are other fun activities to take part in on the 5-day journey, including drag shows, parties, a silent disco, a casino night, talent shows, and much more. Book your trip today!
20th Annual Yale Healthcare Conference
Last on our list is the 20th Annual Yale Healthcare Conference that will be taking place April 11–12 in New Haven, Connecticut. Both nurses and allied health professionals alike can find value in this conference, as industry leaders and clinicians alike attend the conference to discuss healthcare issues and opportunities for innovation in the field. 
Although the only details we have so far is the date of this upcoming conference, last year, the event was both in-person and virtual. So, if you can't make it to New England to attend, make sure to keep an eye out for ways you can participate from afar. 
Partner with Us
If you're a travel nurse or allied health clinician, we hope to see you at TravCon in September! Looking for new travel healthcare opportunities? Connect with one of our recruiters today to begin the process to find a new assignment that will fit your needs and wants. We also have all of our open positions posted online—check them out!