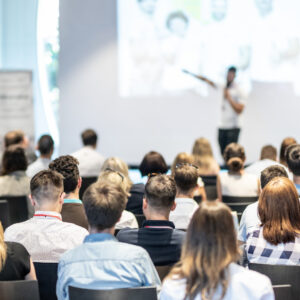 Between presentations and exhibits, to networking events and so much more, industry conferences are jam-packed with like-minded people exchanging laughs and ideas. At Barton Healthcare Staffing, we know the immense value and benefits of these events—which is why we will be attending TravCon, the United States' largest travel healthcare conference, this September 17–20 at the Paris Las Vegas Hotel & Casino in Nevada. If you're a travel nurse, allied health provider, or other medical professional who has never thought of attending healthcare conferences, here are some reasons why you should reconsider. 
1. Valuable Presentations
Most conferences boast a schedule full of speakers, each covering topics related to the industry. By making the time for these educational presentations while you're at a conference, you'll grow more knowledgeable about subjects you may have never studied before. 
Take TravCon for example. Participants will have access to over 70 different sessions on all things healthcare travel across theicipan four-day conference. Not to mention the keynote presentation by Terry N. Foster, a registered nurse who will discuss the use of humor in healthcare.
2.
Continuing Education
Some healthcare conferences, like TravCon, give attendees the chance to earn continuing education credits, or contact hours, by going to certain sessions. There are often also one-off sessions you can attend to renew certifications that are in jeopardy of lapsing. If you're attending TravCon and you need to renew your basic life support (BLS) certification, you can go to a one-hour session to do so. 
3.
Networking Events
No one wants to sit down and listen to speakers all day. That's why industry conferences in general usually set aside time for professionals to get together and network over food, drinks and other activities. But don't just wait until these scheduled times to meet new people—conferences are really just one big networking event, and there are always going to be opportunities to strike up a conversation with a new face. 
If you're attending TravCon, and you're a travel allied health or therapy provider, don't miss out on the Allied & Therapy Mixer we're sponsoring at the Paris Conference Center on Sunday from 6–8 p.m. We'll be there—find us and say hi!
4. Inspiration and Fun
Sure, healthcare conferences are full of educational and networking opportunities, but they can also be extremely fun! Think about it—as an attendee, you are surrounded by like minded people who have a deep understanding of the challenges and rewards of your shared industry. Many conferences also put on entertaining events, such as TravCon's hike or golf tournament, which are a blast for those who are interested. 
Throughout the entire conference, you'll be meeting new people and learning new things, which can be a very inspirational experience, if you let it. Open your mind and take every opportunity that comes your way at these conferences. You never know who you'll meet or what you'll learn!
Connect With Us at
Travcon
!
Are you a travel nurse or allied health professional who is going to TravCon this September? We want to meet you! Come find us to learn more about how we can help you find great travel opportunities that meet your needs. Or, visit us online and check out our open positions.