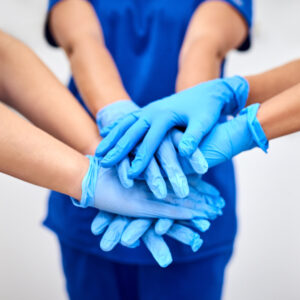 Are you a travel allied health professional looking for a new job in 2024? Not sure where to look or what to expect in the new year? If you've answered yes to either of these questions, you've come to the right place. 
In celebration of National Allied Health Week (November 5–11), we've analyzed the past year of our allied health travel jobs listing data and extrapolated it to create a non-comprehensive outlook of what you can expect in 2024. Read on to learn more about what specialties we've been seeing interest in from our clients and which states they've been needed in the most.
Imaging/Technology Jobs
Allied health professionals specializing in imaging and technology have a lot to look forward to in 2024. Here's a list of the specialties we saw listings for in 2023: 
CT Technologists
In 2023, we've seen more listings for CT techs than any other imaging/technology specialty. If things continue on the same path, you can expect to continue to see jobs in this critical field pop up throughout the coming year. It makes sense that these clinicians are in high demand—CT techs play a critical role in capturing cross-sectional images of a patient's anatomy that help diagnose disease and other ailments. 
Our 2023 data shows that CT technologists were most wanted in California and New York, but there's a decent distribution among most other states when it comes to the need for CT techs. Other states that had relatively higher listings for CT techs in 2023 include Alaska, Arizona, Illinois, Montana, Nevada, Texas, and Washington. 
Diagnostic Radiology Technologists 
Diagnostic radiology technologists—clinicians who are also responsible for conducting medical imaging on patients—saw a decent amount of opportunity for travel jobs in 2023, which we expect to continue into 2024. Like CT techs, diagnostic radiology tech jobs were mostly in California and New York in 2023. And, perhaps unsurprisingly, Alaska, Arizona, Illinois, Montana, Nevada, Texas, and Washington all had relatively higher listings for these clinicians over this past year. 
Sleep Technologists — Polysomnographer 
Polysomnographers help diagnose and treat sleep disorders—which are ailments such as sleep apnea that affect more than 50 million people in the United States, according to the Cleveland Clinic. In 2023, these crucial clinicians saw a decent amount of travel listings, specifically in Maryland, New York and Ohio. 
Ultrasound Technologists
Ultrasounds are commonly used in a variety of different medical circumstances, such as when OB/GYNs want to check on the health of a fetus, or if a cardiologist wants to image a person's heart. In 2023, Alaska, California, and Washington had the most listings for these clinicians.
MRI Technologists
Similar to CT techs, MRI technologists are responsible for imaging patients through the use of a magnetic resonance imaging (MRI) machine. There were a fair amount of listings for these travel clinicians in 2023, which is not surprising, as MRIs are one of the more common medical procedures. Interestingly, most of our MRI tech listings came from California in 2023, so expect to continue seeing need on the West Coast for these clinicians. 
Mammogram Technologists 
Mammograms play a critical role in catching breast cancer early in patients. Mammogram technologists use X-Rays to image a person's breast, looking for any unnatural masses that could be cancerous. The past year, mammogram techs were needed the most in Alaska, and California. 
Nuclear Medicine Technologists, Echo Techs, and More
Our listing data also includes information about nuclear medicine technologists, echo techs, interventional radiology technologists, cath lab techs, radiation therapists, and PET CT technologists. We did not see as many listings for these specialties in 2023 compared to the previous specialties, but that doesn't mean they won't be in demand in 2024. Like most of the other specialties, there was more need for these travel clinicians in California, Maryland, and New York.
Therapy Jobs
Whether you're a social worker or a physical therapist, there will likely be plenty of travel jobs for you in 2024. Here's a breakdown of what we saw in 2023 by specialty: 
Physical Therapists
After a person has surgery or an accident, physical therapists help them regain or strengthen control and motion in their limbs. In 2023, we saw the most job listings for this therapy specialty, in Arizona, California, Montana, New Mexico, New Hampshire, Washington, and Wyoming. 
Respiratory Therapists
Respiratory therapists saw the most travel jobs in Illinois in 2023, with New York coming in with the second-most listings. Florida, Virginia, Montana and Arizona also had a higher distribution of respiratory therapist travel jobs in 2023. 
Social Workers
Social workers aren't a traditional healthcare provider like a nurse or a doctor, but they nonetheless play an extremely critical role in helping people work through the challenges they face in their daily lives. They work in a variety of different settings, from mental health clinics, to hospitals, and even schools. 
In 2023, the majority of our listings for social workers were in California. However, we did see an elevated need for these clinicians in Connecticut, Florida, and Nevada.  
Occupational Therapists, Speech Language Pathologists, and More
In addition to the therapy specialties above, we also took job listings for other specialties, such as occupational therapists, speech language pathologists, pediatric respiratory therapists, and audiologists. Here are some of the hottest states in 2023 for those specialties:
Occupational Therapy: Alaska, California, New Mexico, Washington

Speech Language Pathology: California, Montana

Pediatric Respiratory Therapy: North Carolina

Audiologists: California
Laboratory Jobs
In 2023, we had the most laboratory job listings for medical lab technicians, followed by medical lab scientists and pathology assistants. Here are some of the hottest states in 2023 for those specialties:
Medical Lab Technicians: Alaska, Arkansas, Arizona, Colorado, Kansas, Minnesota, New York, Tennessee, and West Virginia

Medical Lab Scientists: California, Missouri, Montana, Oregon, and Wyoming

Pathology Assistants: California, Florida, and Oregon
Pharmacy Jobs
Lastly, in 2023, we had the most travel pharmacy job listings for pharmacists. These jobs were all in Arizona, California, New Hampshire, and New Mexico. 
Work With Us
Are you looking for an allied health travel job in 2024? Interested in working in some of the states we called out in this list? While this list is purely an extrapolation of the job listings we saw in 2023, there'll likely be jobs in other states not covered in this list as we move into the coming year. Check out our online job board and reach out to a recruiter today to get started!