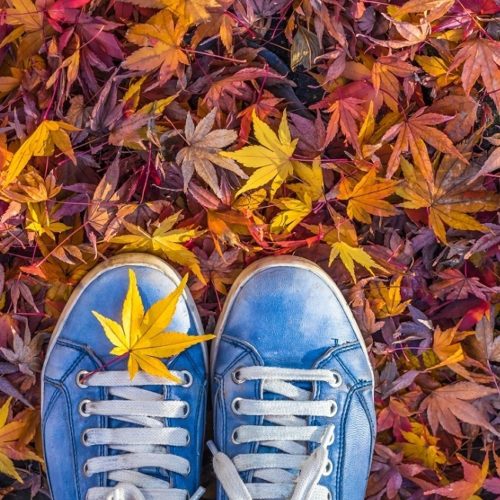 The summer months are usually peak travel season. This is all the more reason to consider traveling in autumn. Traveling during the transition from summer to winter can have its advantages. Whether you're seeking out the best places for fall foliage viewing, a way to escape the crowds, or a chance to embrace your spookier side, there are plenty of great travel options.
Check Out New England
If a blanket of yellow, orange, and red scenery are the eye-candy you're seeking, New England has a plethora of options to choose from for beautiful fall foliage. The leaves begin to change colors around the second week of September, and peak during the first week of October, but this can vary with the elevation and weather conditions.
Vermont: There are a variety of beautiful towns in Vermont to choose from, whether you're serious about planning your fall foliage viewing, or perhaps you're just coming along for a tour of the Ben & Jerry's ice cream factory.
New Hampshire: It might be a little less crowded to seek out the beautiful scenery in New Hampshire. In addition to the foliage, you might go on a drive to see covered bridges, or look for moose near the Great North Woods Region. If you're more adventurous, you might try cave exploration.
Massachusetts: Boston Public Garden and Boston Commons are two prime spots for admiring fall foliage and enjoying a tour of the New England countryside. Other hot-spots include the Boston Arts Festival or, if you're near Salem, which is well known for the Salem Witch Trials in 1692, you'll find many Halloween themed events.
Beat the Heat
Avoid the heat and enjoy milder temperatures by traveling south during autumn. Often, there are still plenty of opportunities for fall foliage viewing, along with other activities.
Asheville, NC: If you're traveling a little later in autumn, the most vibrant colors in the mountains along the Blue Ridge Parkway and the Appalachian Trail are usually between October and early November. This is also a sought out destination for a variety of cuisine, breweries, hiking, biking, or to enjoy apple picking, warm apple cider, or fall music festivals.
Charleston, SC: Charleston offers colonial city charm, along with beautiful cultural and architectural heritage. Traveling during the second peak season of September through Thanksgiving is usually warm with less humidity in Charleston. This can be a perfect time to tour the historic magnolia plantation and gardens. This tranquil landscape strives to balance nature and humanity, and you can check out what's in bloom during your trip.
Get Your Spook On
If ghost stories and paranormal settings are your thing, here are a few great places to travel in the fall months.
New Orleans, Louisiana: New Orleans offers a plethora of options for exploring voodoo cultures, ghost tours, cemetery walks, and haunted pub crawls. Some have found more than spirits served up in a glass at LaFitte's Blacksmith Shop. The spirit of this bar's long passed owner, who was suspected to have used his bar for a smuggling business, is said to occasionally appear in his pirate garb. If scary stuff isn't your thing, Oktoberfest runs for three weekends in October, as well as events for art enthusiasts and the New Orleans Film Festival.
Savannah, Georgia: Whether you're looking for paranormal activity, or antique shops in the Historic District, Georgia's oldest city has been described as the most haunted in America featuring plaza's built on former graveyards. Ride past historic homes in a horse-drawn carriage, or sign up for a ghost tour and discover their haunted history.
Skip the Lines
Once the kids head back to school, and prime time vacation season starts wrapping up, autumn can bring shorter lines. Less tourists means you might be able to get better rates on hotel rooms and flights for prime vacation spots.
Walt Disney World, Orlando, Florida: October just might be the best time to go to Disney. The crowds are lighter, the temperatures are better, yet the water parks are still open and the cooler temperatures may prompt more animals to venture out at the Animal Kingdom. Not to mention the opportunity to enjoy the fabulous Halloween and Fall-themed decor, and Epcot's Food and Wine Festival.
Yellowstone National Park: Autumn arrives early in Yellowstone National Park. This volcanic hot spot is mostly located in Wyoming, but also expands into parts of Montana and Idaho. It's the perfect time to take spectacular photographs during this prime time for watching for elk, bison, moose, eagle or bears. With much cooler temperatures, you might even find it easier to get into a high demand hotel like Old Faithful Inn and Canyon Lodge.
Happy Trails
There's no reason why summer has to mean the end of great travel spots. You might even find more reasons to enjoy traveling in autumn. As a travel nurse with Barton Healthcare Staffing, you can work with your recruiter about reaping the benefits of getting paid while visiting some of the best travel spots for autumn.
Ready to find your autumn assignment? Contact a BHS recruiter today to get started!