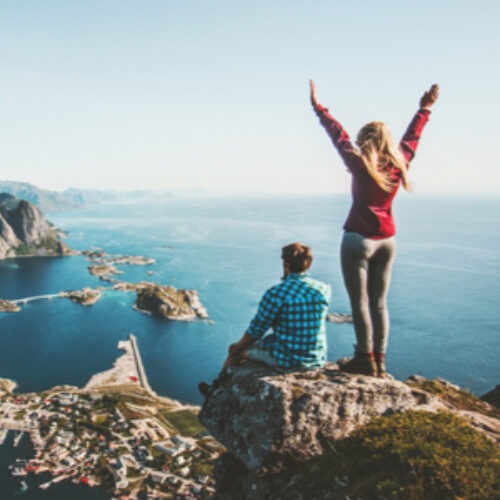 This week, I had the opportunity to interview my colleague regarding her experience as a Traveling Physical Therapist. Stephanie and her husband Kyle, who is also a Physical Therapist, were newly engaged when they made the decision to travel. Between their combined college loans and high rent in the Boston area, they were attracted to travel for its financial benefits, as well as the opportunity to work in different parts of the country. Ultimately, they figured, it would help them decide where to settle down before starting their family.
Steph and Kyle started their journey in Virginia to be close to family – meaning that they could send rent while also saving money. They both completed several travel assignments between 2015 and 2017. Initially, they used the same company, but Stephanie found that the travel company that Kyle worked with did not offer the types of opportunities that she felt most comfortable with. Kyle pursued home care assignments, while Stephanie preferred working in an orthopedic facility, particularly out-patient settings.
Stephanie worked several 13 week assignments, as well as what turned into a long per-diem opportunity. This experience extended up to 8 months; it could have been longer had she not decided to take time off for maternity leave. Other assignments included an in-patient rehab facility working with patient post CVA and Cardiac Surgery.
At times, it was hard to find assignments for both Kyle and Stephanie. Kyle was more flexible as he was willing to take home care opportunities. Often, he chose his assignment first. Stephanie found it more difficult to find an outpatient opportunity anywhere and she was more picky and willing to "hold out" for the right opportunity. Kyle stayed with the same company – during the time they traveled, he often took the first homecare job that came up. Stephanie worked with a variety of agencies and ended up working with whomever got back with promising leads.
There were many advantages of traveling together, as they got to see the country together, they were never home-sick, were able to pay down debt, and save for their destination wedding. Stephanie highly recommends getting started on licensure 3 to 4 months before you plan to travel to any state. Many boards of licensure have only one staffer and the process can be slow! She also recommends keeping important documents on hand to include your letters of good standing from every state you have worked in, diploma, test scores, and vaccination records. Also, she says, you should update your resume at the start of every assignment.
Stephanie recommends asking questions of your staffing agency. Ask- how much support will the staffing agency provide you?
Will they pay for state licensure? And what are the requirements for each state?
Do they tell you what you need for documentation?
Can they help with negotiation for pay, for housing and car rentals?
What are health requirements and will they pay for reemployment physicals, testing, and vaccines?
Overall, Stephanie and Kyle enjoyed traveling the country and the ability to see how physical therapy was done in different areas. For example, Stephanie says there are other treatment philosophies that she has learned about, but getting to see it in practice with experienced clinicians exposed her to new treatment options. She also observed how her colleagues interacted with other members of the health care team including how medical doctors interacted with PT in states with direct access vs states without direct access. After two years of traveling, saving money, and gaining experience, Stephanie and Kyle decided to return to Massachusetts and settle down with their children.
Ready to travel with your significant other? Fill out the form on the right to get started!