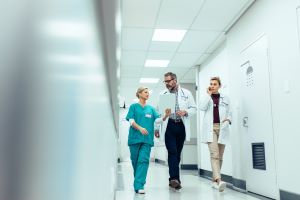 What is one of the biggest benefits to being a float pool nurse? When a new assignment starts to feel like it's sink or swim, they float instead!
Float pool nurses are registered nurses who switch, or "float" between different departments within a healthcare institution to fill in staffing shortages. Float nurses are a key component to the survival of healthcare systems because they provide critical patient care coverage across multiple units when there aren't enough staff nurses to cover a facility's whole patient population.
Since they generally do not have a specific specialty, float pool nurses can be found in just about any healthcare setting and medical department, including medical-surgical (med-surg), intensive or critical care, emergency room, and more. This means that every day as a float pool nurse has something new in store, making it of utmost importance to be able to adjust to changes quickly and seamlessly.
There are many benefits that come with travel float nursing assignments, however due to the unsystematic nature of the job, it may not be a good fit for every travel nurse. Let's dive into the top pros and cons of float nursing, so you can judge for yourself whether or not it's the career path for you!
Pro: Beat Burnout
While specialty nurses often get stuck in the same old habits, routines, and politics, as a float nurse moving through a variety of different settings every day, there's hardly any way that you could possibly be understimulated on the job.
Since float nurses move from unit to unit as they are needed, there are always different places to experience, exciting things to learn, and new people to meet. This is exceptionally true for traveling float nurses, who, in addition to experiencing so many new things in just one assignment, also have the added benefit of traveling across the country on multiple placements, where they get to experience a wider variety of unique people, places, and things.
Con: Getting Stretched Thin
As previously mentioned, float pool nurses get to pick up a wide array of skills and knowledge on every new unit and assignment. With that being said, with such vast learning opportunities, how much is too much?
Float nurses, especially traveling float nurses, who must adjust to each separate placement, must train in many, if not all, of a facility's units. Though they are not required to be experts in every medical area, they must obtain training from every individual unit in order to ensure that they can provide adequate patient care. This also includes familiarizing yourself with, and juggling numerous protocols and policies, which may differ greatly between varying departments.
Additionally, float nurses must obtain and maintain a wide array of diverse certifications, which allow them to work in different specialties, with different certification requirements.
Pro: Earn an Attractive Salary
Some healthcare organizations may have the means to rely on a nursing float pool of full time nurses, hired exclusively to float between units. However, due to ongoing nurse and clinician shortages along with increased turnover rates among permanent staff, healthcare institutions nationwide are now turning to travel nurse staffing agencies to fill their needs; offering handsome pay rates for the elusive traveling float nurse.
Though you can earn an elevated salary even as an entry-level float nurse, your pay rates will skyrocket exponentially as you get more experience under your belt. Gaining experience as a float nurse is fairly painless since learning and building skills naturally comes with the territory of floating, and traveling float nurses are always in demand.
Not only does consistent high demand for float nurses increase earning potential in itself by providing job stability, but when mixed together with a good deal of experience, you'll always be an attractive candidate to prospective employers; bumping up both your price tag, and your job options!
Con: Difficulty Forming Relationships
As float nurses are always on the move, they may not get the chance to stick around a unit long enough to form any meaningful bonds or relationships with other staff, or even patients. When you are constantly working in new areas with different staff on each unit, it can be easy to sink into a feeling of isolation.
Nevertheless, traveling float nurses in particular still have their ways to find a sense of community, many of whom choose to form bonds with their fellow colleagues in their float nurse pool. Moreover, in our digitized age, there's always platforms like Doximity, where healthcare professionals can connect, chat, and keep in touch — even after you've left a travel float nurse assignment.
Excited to find a travel float pool nurse assignment? Check out our open travel nurse jobs today!