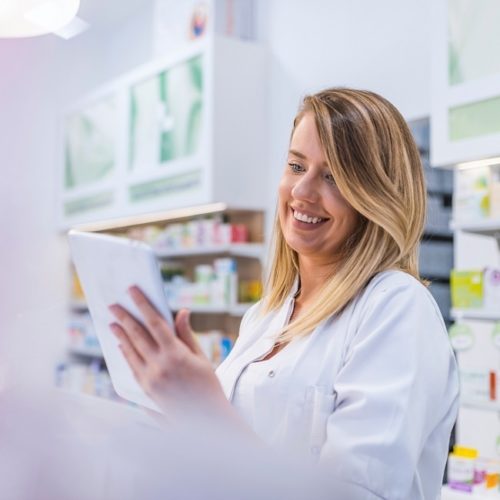 By my last year of pharmacy school, after researching the numerous opportunities available to pharmacists, I knew I wanted to at least start out working in community pharmacy. I really like the energy, the interactions with patients (although admittedly it does come with good and bad), and the chance to learn about a wide variety of medications and disease states. After all, in just one day, community pharmacists can face everything from helping new moms pick out infant formula to judging the appropriateness of an anti-psychotic dose.
My first job out of school was as a float pharmacist with Walgreens, which was a great experience. We had over 30 stores in our district and some excellent pharmacists that helped me immensely while learning the ropes. Any new graduate is going to be uncomfortable and unsure of their abilities at first, and the pharmacists I worked with this "chain pharmacy" helped me transition to practicing on my own and bridge the gap between student and pharmacist.
Later in my career, I worked as pharmacy manager for Safeway and also had a great experience. They were certainly innovative, including being the first national chain to Ask-Advise-Refer with every encounter at the drop off window. I love the fact that chains can implement an initiative at such a large scale that it can actually make an impact on national public health initiatives. Thousands of patients benefited from our pharmacists proactively speaking to them about smoking cessation while also recommending and administering necessary vaccines.
In addition, any pharmacist wanting to become a top-notch community pharmacist can benefit from chain pharmacy experience. Here's why:
Legal and third-party compliance:
Chains take care of everything when it comes to legal and third-party compliance. This includes third-party contracting and re-credentialing, writing policies and procedures, claims reconciliation, drug pricing, managing subpoenas, and much, much more. One pharmacist I worked for said it nicely: "I like working for Walgreens because they have people for everything." Especially as a new grad, when you are just getting your feet wet in pharmacy, the last thing you want to have to worry about is a myriad of regulations and contracts that were beyond the scope of the pharmacy school law class.
While it is true that chain pharmacies do get fined occasionally for legal and third-party compliance issues, I would argue that the majority of the time they are not an outlier in the industry; rather, they are fined as an example for the industry. A good example is the recent Walgreens settlements for dispensing whole boxes of insulin pens. Most pharmacies I have worked at (Walgreens and otherwise) have practiced this way for years. After this settlement, I am sure pharmacies around the country are rewriting their own policies and procedures and retraining their pharmacy staff to reflect this case.
Looks great on a resume:
Experience in a chain pharmacy looks great for getting other positions, whether within a chain or elsewhere. The organization I work for, for example, is a national health-system and recently restructured the outpatient pharmacies to create regional managers and one national director. For all of those positions, they were actively looking for experience within a chain, and candidates that had experience as a regional manager within a chain looked especially strong.
Efficiency:
Chain pharmacies generally are more efficient than the independent pharmacies I've seen. This includes workflow, the software system, the pharmacy layout, and much more. Walgreens, for example, even had a small conveyor belt running along the back of the counter in many stores that would deliver bins from the technician to the pharmacist. When the stores get really busy, small things like this help. Not only do you get to enjoy the efficiency while you work for them, but you also see what it looks like. In the future, if you walk into a pharmacy that is not nearly as efficient, you have a model to follow and will more quickly identify areas for improvement.
Internal operations:
In addition to efficiency, chain pharmacies on average are stronger at internal operations than independents. Internal operations can include everything from inventory procedures to outdates to record retention and written policies and procedures. Also, as with efficiency, when you have worked for a chain and then walk into a pharmacy needing improvement, it is all the more obvious because of the experience.
Career advancement:
I think it is unfortunate that I hear so many pharmacists feel like there is no career advancement within large chain pharmacies, because they have great opportunities. It is not just about becoming a regional manager either; when I worked for Safeway, for example, they had clinical pharmacy coordinator positions who were in charge of launching and helping with all sorts of programs to improve patient care, from travel vaccinations to blood pressure screening. Chains can also have work-at-home jobs, project management jobs, legal and internal compliance jobs, supply chain jobs, and much more.
What other benefits of chain pharmacy have you experienced, or heard? Share your thoughts with us on Twitter, and contact our team to learn about pharmacy career opportunities!