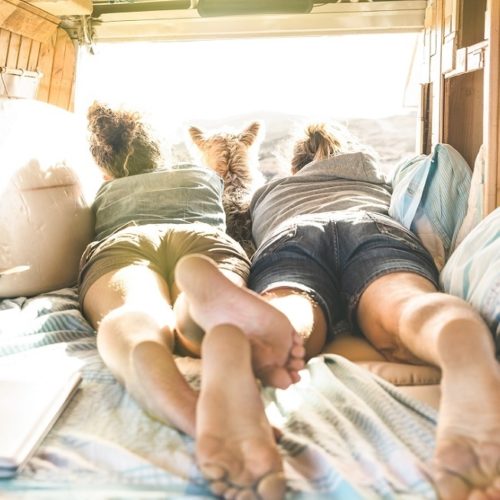 If you are tired of packing at the end of each contract, there are options that allow your home to travel with you. Traveling nurses and other healthcare professionals may like the convenience of a recreational vehicle (RV) instead of finding an apartment as they move around.
This definitely isn't for everyone. Although there are some very important benefits, there are also downsides you need to consider before deciding if this is a viable option for you.
Advantage to Having Your Stuff
One of most obvious advantages is you own the RV. You have your belongings with you. The bed is your own. The linens and bedspreads are those you have picked out, and you know that you have everything you need.
There are also fewer on-site surprises that can impact you adversely. You won't get to the new place and find it in need of repair, the living area different from what was shown online, or bugs to be exterminated.
Because they cater to vacationers, RV parks often have few or no restrictions on pets. The parks do not charge a pet fee for cleaning. When travelling with a pet, you will still need to confirm the rules with a specific site before you book it.
Taking Your House With You
When you finish one contract, your housing goes with you. This saves you money on hotel rooms and eating out between cities. You can go "boondocking" en route, staying for free in parking lots of truck stops and big box stores. Look for signs or ask the person at the front desk if it is okay before you stay overnight. In some urban and suburban areas, there may be local ordinances forbidding the practice.
With RVs instead of short-term apartment rentals, you are buying something and building vehicle equity. This can be controversial, as campers, trailers and RVs depreciate faster than standard cars. If you don't already own an RV and take out a loan to purchase one, for much of the time it is likely that you will owe more than the depreciated vehicle is worth.
Initial Outlay Can Be Expensive
While there are many positives to traveling in an RV, there are also some negatives. Not the least of which is the initial outlay, which depends on the size and options you choose.
If it is just you on your own, you might consider a smaller travel trailer. If you are living with one or two people, a fifth wheel trailer attached to a pick-up truck is possible. If you need more space, full sized RVs may be right.
There are other things to be factored into both the initial and ongoing costs before you buy. A camper will need a bigger car or sport utility vehicle to pull it around. The fifth wheel requires a fairly large pick-up truck. The full-size RVs are self-powered. However, you will still need a vehicle of some type to get you to work. The costs of buying, maintaining, purchasing gas, and insurance for both the RV and the second vehicle should be in your financial considerations, although you can be provided with a stipend to help cover those living expenses.
Finding a Place to Park
After you have your camper, trailer, van, or RV, you have to find a place to park it. As with apartments, there are seasonal concerns. For example, many parks in cold weather areas close down for the winter making it more challenging to find a suitable place. Prices also go up during the in-season time, as with apartments. Unless you plan ahead, insulation can be a problem, making your residence hot in the summer or cold in the winter.
There are websites that help find places. RVParking.com, campendium.com, and hipcamp.com allow you to search by city and state. They list available amenities such as Wi-Fi or cable television. If traveling in a camper, it may be helpful to know laundry facilities are available.
You may have problems finding this type of natural campsite close to your workplace in urban areas. This can present a challenge if you have to live within 30 minutes of a hospital for call, but there are always other options for where to park overnight.
Should I Stay Somewhere Free?
There are many places to stay for free. Hospitals are building RV parks next to their facilities for patient or employee use. Before you select this option, check with a professional knowledgeable about the tax implications of traveling in your RV, as not paying pad rental may impact on stipend taxation. Your recruiter may also provide some more detailed guidance regarding the nuances of this type of lodging and lifestyle.
After finding a place to stay, do your due diligence. Most websites quote daily or weekly rates, but monthly is often cheaper. Talk to the manager to see if any deals are available. Nurses report getting bigger discounts by mentioning they are working at the local hospital.
There are Facebook pages for more information and to talk to those already RVing. They include:
You will need to go over the financial figures very carefully. I cannot guarantee that RVing will be cheaper than other options available to you, but it's certainly worth exploring this option.
Ready to take your career on the road? Connect with a recruiter today to learn more about our open positions!