"Can you go work down in Laredo for a while?"
I was so happy that my boss couldn't see my face through the phone after she asked me that question. Laredo? At the time, it definitely didn't sound that great to me. But I've always been an ambitious, hard-worker, and before I knew it, I heard myself respond, "Sure."
I was the furthest thing from sure about what I was getting myself into. All I knew is that I wanted to get into my boss' good graces and remain there. Looking back on that moment always brings a smile to my face. Clearly, I didn't realize it at the time, but I had just made one of the best decisions of my young career.
I had never been to Laredo, Texas. In fact, I had never been south of San Antonio. I knew I had been selected because I was the only Spanish-speaking pharmacist the company had at the time. Soon, I received a few more details about the assignment and ironed out the logistics. I was not excited at all leading up to my trip, but I kept reminding myself of the few positives I had come up with:
I would get a per diem for lunch (free food!),
I would rack up some hotel points, and
I would have the opportunity to learn about a new and diverse patient population.
Little did I know that Laredo had much more in store for me.
When I landed in Laredo, my immediate thought was 'Wow, this airport is extremely small.' I quickly made my way to the rental car counter and was pleasantly surprised as I was given the keys to a brand-new Volkswagen Jetta with leather seats. My flight had arrived pretty late, so I made a beeline for the hotel since I had to report to work early the next morning.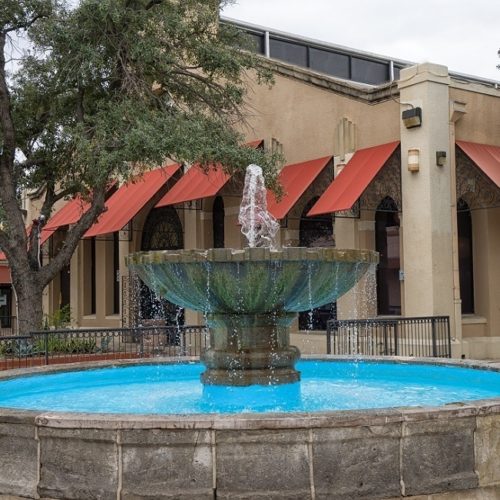 My first day was fairly uneventful: figuring out where the closest restrooms were, where the syringes and needles were kept, who the frequent flyer patients to look out for were; normal first day stuff. It wasn't until after my shift that the excitement started for me. I had to figure out what to eat for dinner.
As a disclaimer, I am a proud card-carrying member of the foodie club, and as such, I am very…er…particular…about what I choose to eat.
Somehow, I came across more than a few raving Yelp reviews about a sushi restaurant that wasn't far away. Good sushi in Laredo? 'No way,' I thought to myself. However, my curiosity got the best of me, and I soon found myself pulling my Jetta into the parking lot of the restaurant. I walked in and was seated almost immediately. My waitress came to the table quickly and offered me some water while I looked over the menu. Every single interaction since walking in the door had taken place in Spanish.
Now, I fully expected to speak almost exclusively in Spanish at work, but Spanish in a sushi restaurant? I was a little surprised. The menu, however, was in English. Looking around, the place was actually pretty packed for a Monday night. It seemed I had gotten one of the last available tables as a line was beginning to form at the door. I was thoroughly confused, but strangely hopeful.
I proceeded to order and consume some of the best sushi I have tasted to date. No joke. This dinner marked the beginning of my love affair with Laredo, Texas.
Writing about the food in Laredo deserves its own book, so I won't dare attempt to do so here. Suffice it to say that the food is amazing and rivals any big city. Actually, writing everything about my experience in Laredo would probably result in something around the length of a novella. So, in the interest of time, I will keep it succinct.
Beyond satisfying all of my foodie cravings, Laredo offered so much in the way of an incredibly unique culture and genuinely friendly people. My work assignment there has long been over, but I am always looking for a reason to go back and spend time in what I consider to be one of the kept secrets in Texas, and maybe even the entire country. Yes, Laredo is that amazing.
The irony, of course, lies in the fact that I was far from excited about the opportunity when it was initially proposed to me. I learned a valuable lesson on that assignment; since then I have always maintained an open mind when presented with opportunities to work in different cities around the country. As a result of that thinking, I have had countless marvelous experiences working in places all over Texas, the United States, and Latin America. But I will never forget Laredo, the place that taught me that wonderful surprises just might be waiting for me in each and every new assignment, no matter where it may be.
Interested in taking an assignment somewhere you'd never normally consider? Barton regularly posts openings for healthcare positions of all types, all across the nation. Connect with a recruiter to check them out!