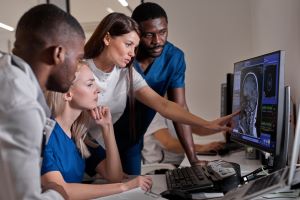 While it may be true that travel jobs are plentiful for allied health professionals, this doesn't mean that every clinician will thrive on this career path. Making the decision to get into travel health care work is exactly the same as making any other big career decision. It's not always as simple as making a conclusion on whether or not travel work is the right fit for you; you also have to consider whether you are the right fit for travel work.
Travel allied health work offers a long list of advantages over traditional forms of employment in the health care industry, but just like any other job out there, in order to enjoy the benefits, you have to land the gig first. Just as a hospital seeking to fill permanent roles wouldn't hire just any diagnostic medical sonographer or occupational therapist simply because the position is open, travel allied health hiring managers also want to find the right candidates for their staffing needs.
This certainly doesn't mean that you have to check every box to reap the rewards of travel work, but these success-driving travel allied health clinician traits are definitely something to keep in mind as you explore your options!
Self Advocacy
When you work with an allied health staffing and travel job agency like Barton Healthcare Staffing, you'll work with a recruiter whose biggest priority is to not only find you a job, but to find you opportunities you'll fall in love with.
But remember, all your recruiter has to work with is what you communicate to them about your preferences. Thus, it's critical to be vocal, and specific about the things you need and want out of a travel assignment to help your recruiter understand what's ideal, what's off the table, and what's up in the air so they can better inform their search.
Open Mindedness
There are no ifs, ands, or buts surrounding the importance of self-advocacy when it comes to communicating your preferences. However, the traveling clinician who balances their desires out with an open mind is able to tap into much greater opportunity.
While it's understandable that many allied health professionals may not want to settle for anything less than their ideal travel assignment, it's critical to know the difference between hard and soft preferences, and to identify what yours are.
Hard needs are your deal breakers, things that a travel allied health job absolutely must, or must not have in order for you to consider it, such as which state/s you're willing and not willing to work in.  
Whereas soft needs are your desires, around which you are willing to be flexible; for example, a willingness to work in a rural area even though you prefer cities.  
More often than not, clinicians who keep an open mind about going on an "imperfect" allied health assignment come out of it grateful that they did!
Flexibility
In the same vein, open mindedness and flexibility come hand-in-hand in many ways. Flexibility best serves travel clinicians when an allied health job hands them a chance to learn or experience something new, and they are not just open to the opportunity, but they run with it.
It is not uncommon for a travel allied health job to ask, for example, a medical imaging technologist, to perform CT scans when they only have prior experience performing X-rays. But when you're flexible enough to tread into uncharted territory, you end up with a larger set of professional skills, knowledge, and experience, which only serves to make you an even more competitive candidate for future opportunities!
Ready to start your travel allied health journey? Contact us to get in touch with a recruiting representative!